Contact and visits
Arboretum Wespelaar is currently CLOSED for the Winter season. We will be open again on Sunday, April 2nd, 2023.
Foundation Arboretum Wespelaar
Grote Baan 63 - B-3150 Haacht-Wespelaar - Belgium
Tel.: +32 (0)16 60 86 41 – Fax: +32 (0)16 60 13 53
Mail: info@arboretumwespelaar.be
Arboretum Wespelaar is open on Wednesdays and Sundays from April, 1st to November, 15th.
Entrance fees:
Adults and children +12 years: € 5
Children -12 years (accompanied by an adult): free
Annual ticket for families: € 30
Guided tours:
To be requested in advance, also possible on other days than our opening days
€ 50 per group (max. 25 persons) and € 5 entrance fee per person.
Facilities:
Reception desk: for all your questions
Cafeteria: hot and cold drinks and small snacks are available in a vending machine
The Arboretum does not have hard surface paths. Please bring appropriate footgear.
Parking accessible via the Elisabeth Willemslaan (green gate), including parking spots for bikes
Attention:
Dogs are not allowed
Drones are not allowed
Arboretum Wespelaar is situated on the border of the triangle Brussels - Mechelen - Leuven. We are easily accesible, not only by car but also by public transport (bus and train stations are at walking distances, station 'Wespelaar - Tildonk') or even by bike (through the canal Leuven-Mechelen). Except for cars, the entrance of the Arboretum Wespelaar ('Rode Poort' - red gate) is situated in front of the church of Wespelaar on the Grote Baan. Cars can drive to parking 1 through the 'Groene Poort' (green gate), a small road next to the school of Wespelaar situated on the Elisabeth Willemslaan nr. 6). If the parking is full there, cars can also park on the Grote Baan in front of the church of Wespelaar. This can all be found on the map of the arboretum.
Info
Level 4 accrediation by ArbNet renewed for Arboretum Wespelaar !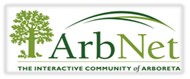 Regulations Arboretum Wespelaar
Visitors can consult the regulations here.
Oak Processionary
Since a few years we are confronted with more and more Oak Processionaries on our big pedunculate oaks but also on other plants of the collection. The hairs of these caterpillars can cause severe allergies.
Dogs are not allowed.

Thank you for your understanding.